ESOPs have always been "sold" to employees as wealth generators. More often than not, they were perceived as a dream which rarely came true. Thousands of employees of companies like Zomato, Nykaa, Paytm and Policy bazaar however, would have a different story to tell.
We analysed the offer documents of these companies which recently went public to find out what did the listing mean for the employees of these companies. The closer look at the disclosures was indeed revealing.
Before diving into the findings, it would be relevant to share some assumptions in this analysis. The numbers have been drawn from the Offer documents. The values have been calculated for the Options granted. It is likely that some of these may have been cancelled / lapsed. It is also likely that some of the Options exercised would have been sold by the employees prior to IPO. To that extent the values are overstated. Values in this chart are as of the IPO date
(unless stated otherwise). Let us now look at what these numbers reveal.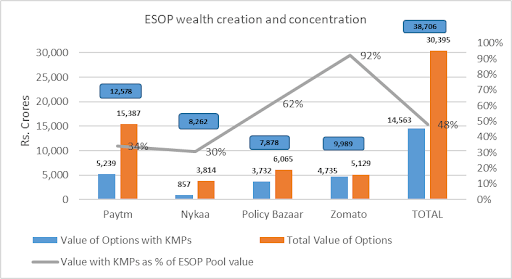 Wealth generated  
Just for these 4 companies, the total value of ESOPs held by employees is over Rs 30,000 crores. This wealth is generated by over 33,000 employees of these companies, indicating that average wealth generated per employee is around Rs 90 lacs. Admittedly, senior management (small in number) hold a large portion of this value.  Even if we adjust these values to the skewed mix, the value per employee would still be more than Rs 50 lacs.  Real indicator of the wealth generated is also the net gain after deducting the Exercise price.
| | Weighted Avge Exercise price (Rs) | IPO price (Rs) |
| --- | --- | --- |
| Paytm | 10.09 | 2,180 |
| Nykaa | 27.21 | 1,125 |
| Policy Bazaar | 2.00 | 980 |
| Zomato | 1.76 | 76 |
This table shows the ridiculously low exercise price employees would pay as compared to the IPO price. As such, more than 99% of Rs 30,000 cr value would be realised Pre tax value. 
Another fall out of this wealth generation is also that as and when exercised, Government would generate Tax revenues of around Rs 10,000 cr assuming Options are exercised at IPO prices. This is a huge addition to the exchequer. In reality these numbers would only be larger given that these Options would vest and get exercised over the next 2-3 years. The graph above shows that in the short span post listing the Value has increased by over Rs 6,000 crores.   
These staggering numbers are just for 4 Unicorns. We already have more than 40 unicorns, hundreds of soonicorns and thousands of companies valued more than $ 100 mn. Bigger picture can easily be seen by extrapolating these numbers. 
Concentration of wealth generated 
Another dimension of this brighter data point is to know who are the major beneficiaries of this bounty. The graph above shows the value owned by the KMPs as a % of the Total ESOP pool. For these companies put together, KMPs own close to half of the wealth generated. While this number at an industry level is not alarming and quite expected, the variation within these 4 companies is quite stark. For instance, in Zomato, KMPs own 92% of the Rs 5,000 cr wealth, while in Paytm and Nykaa, KMPs own only around a third of the wealth.  
Our Surveys indicate that at the industry level, senior management team (normally bigger in size as compared to KMPs) usually get around 70% of the Grants. Concentration in Zomato is quite extraordinary. 
The mix seen in companies like Nykaa and Paytm, if replicated across the whole spectrum, will result into real broad based wealth generation which in turn will encourage more entrepreneurship and overall economic growth.  
Wealth generation no longer dependent on IPO event
Over the last 24 months, several unlisted companies have provided liquidity to the vested ESOPs held by employees. Value of liquidity provided is more than Rs 5,000 cr, which is expected to be around 30-40% of the total vested options and 15-20% of the granted options. This trend is only expected to grow with more and more companies making liquidity an inherent part of Plan design.  
Increasing use of this mechanism also shows that employees no longer need to wait till the IPO to monetize the ESOP wealth. 
As more companies go public and larger number provide liquidity, ESOPs as wealth generators is no longer a dream but a reasonable certainty.